When Lou Gehrig was born on 19 June 1903, he weighed almost fourteen pounds. As a man, he stood six-feet tall and weighed 200 pounds. He was one of the greatest baseball players of his day. Hell, he was one of the greatest baseball players of all time.
Gehrig made his debut with the New York Yankees on 15 June 1923 as a pinch hitter. For a while, he didn't play much. But over a fifteen-season span from 1925 to 1939, Gehrig played in 2130 consecutive baseball games. Only one man has ever come close to this record — and that's Cal Ripken, Jr., who surpassed Gehrig's feat on 06 September 1995. (The next closest? Everett Scott, who played in 1307 consecutive games. Player with the best current streak? Matt Kemp at 210 games through the end of last season.)
Over his seventeen years in professional baseball, Gehrig amassed some impressive stats, including:
a batting average of .340
an on-base percentage of .447
a slugging percentage of .632
1995 runs batted in (Gehrig owns three of the top six RBI seasons in history)
2721 hits
493 home runs
If he'd played longer, Gehrig would most certainly many major-league baseball records. (He still holds the record for most career Grand Slams: 23.) But Gehrig wasn't so lucky.
Gehrig's career — and life — was cut short by a mysterious illness. During the 1938 season, he was afflicted with a physical mallady that nobody could define. Early in the 1939 season, Gehrig decided that, for the good of the team, he'd take himself out of the starting lineup — ending his streak of 2130 consecutive starts.
Here's how Wikipedia relates the rest of the story:
As Lou Gehrig's debilitation became steadily worse (he stumbled over curbs, fumbled with the baseball, and even slipped and fell while running bases), his wife Eleanor called the famed Mayo Clinic in Rochester, Minnesota. Her call was transferred to Charles William Mayo, who had been following Gehrig's career and his mysterious loss of strength. Mayo told Eleanor to bring Gehrig as soon as possible.

Eleanor and Gehrig flew to Rochester from Chicago, where the Yankees were playing at the time, arriving at the Mayo Clinic on June 13, 1939. After six days of extensive testing at Mayo Clinic, the diagnosis of amyotrophic lateral sclerosis (ALS) was confirmed on June 19, Gehrig's 36th birthday. The prognosis was grim: rapidly increasing paralysis, difficulty in swallowing and speaking, and a life expectancy of less than three years, although there would be no impairment of mental functions. Eleanor Gehrig was told that the cause of ALS was unknown but it was painless, non-contagious and cruel — the motor function of the central nervous system is destroyed but the mind remains fully aware to the end.

At Eleanor's request, the Mayo doctors intentionally withheld his grim prognosis from Gehrig. He often wrote letters to Eleanor, and in one such note written shortly afterwards, said (in part):

"The bad news is lateral sclerosis, in our language chronic infantile paralysis. There isn't any cure… there are very few of these cases. It is probably caused by some germ…Never heard of transmitting it to mates… There is a 50–50 chance of keeping me as I am. I may need a cane in 10 or 15 years. Playing is out of the question…"

Following Gehrig's visit to the Mayo Clinic, he briefly rejoined the Yankees in Washington, D.C. As his train pulled into Union Station, he was greeted by a group of Boy Scouts, happily waving and wishing him luck. Gehrig waved back, but he leaned forward to his companion, a reporter, and said, "They're wishing me luck — and I'm dying."
Gehrig retired on June 21st. On Independence Day, he appeared at Yankee Stadium for "Lou Gehrig Appreciation Day", where he gave his famous speech. Here's a video featuring parts of his address:
And here's a complete transcript of Gehrig's remarks:
Lou Gehrig's farewell speech
Yankee Stadium — 04 July 1949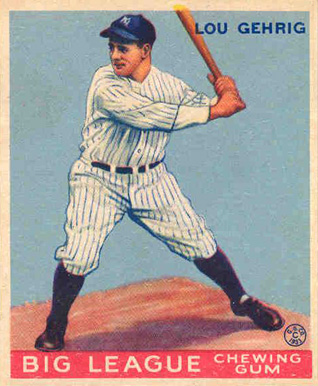 Fans, for the past two weeks you have been reading about the bad break I got. Yet today I consider myself the luckiest man on the face of the earth. I have been in ballparks for seventeen years and have never received anything but kindness and encouragement from you fans.
Look at these grand men. Which of you wouldn't consider it the highlight of his career just to associate with them for even one day? Sure, I'm lucky.
Who wouldn't consider it an honor to have known Jacob Ruppert? Also, the builder of baseball's greatest empire, Ed Barrow? To have spent six years with that wonderful little fellow, Miller Huggins? Then to have spent the next nine years with that outstanding leader, that smart student of psychology, the best manager in baseball today, Joe McCarthy? Sure, I'm lucky.
When the New York Giants, a team you would give your right arm to beat, and vice versa, sends you a gift — that's something.
When everybody down to the groundskeepers and those boys in white coats remember you with trophies — that's something.
When you have a wonderful mother-in-law who takes sides with you in squabbles with her own daughter — that's something.
When you have a father and a mother who work all their lives so that you can have an education and build your body — it's a blessing.
When you have a wife who has been a tower of strength and shown more courage than you dreamed existed — that's the finest I know.
So I close in saying that I might have been given a bad break, but I've got an awful lot to live for. Thank you.
Two years later, Gehrig was dead. On 02 June 1941, the Iron Horse of baseball — this once strong man who was born a fourteen-pound baby — died at the age of 38.
In 1999, baseball fans voted for the Major League Baseball All-Century Team. Lou Gehrig received more votes than any other player.
I cry every time I hear his story.
Note: Today is Opening Day for the 2011 major-league baseball season. Play ball!